Watermelon in skincare
What does watermelon do for my skin?
Today we would like to put a real super fruit in the spotlight: Watermelon! Not only is it super tasty to eat, but your skin is also guaranteed to be happy with this delicious fruit. Curious about the benefits? Read on quick!
Against the first signs of skin aging
Watermelon is rich in Lycopene, a super ingredient that counteracts the first signs of skin aging, such as fine lines and wrinkles. In addition, Lycopene protects your skin from the sun, so that the UV rays do less damage to your skin. For a young, full skin, choose products with watermelon!
Hydrating effect
In addition, watermelon is rich in potassium, which ensures that the moisture balance of your skin is maintained. Dry skins will thank the watermelon! Get rid of annoying skins and dry spots, because watermelon is your lifesaver.
For inflammations and irritations
The list goes on! Watermelon works perfectly for skin with inflammation. Watermelon purifies your skin, reducing inflammation and visibly reducing redness.
Suitable for every skin type
Because Watermelon consists of 90% water, it is suitable for every skin type. This makes this ingredient ideal for sensitive skin. In addition, the anti-inflammatory effect helps to reduce acne and impurities.
In a nutshell
Watermelon is full of vitamins A, C and E and helps protect your skin against harmful external influences. In addition, it reduces irritations and helps your skin to look firmer and healthier again with fewer fine lines and wrinkles. Watermelon is a mild yet highly effective ingredient and can be used for any skin type.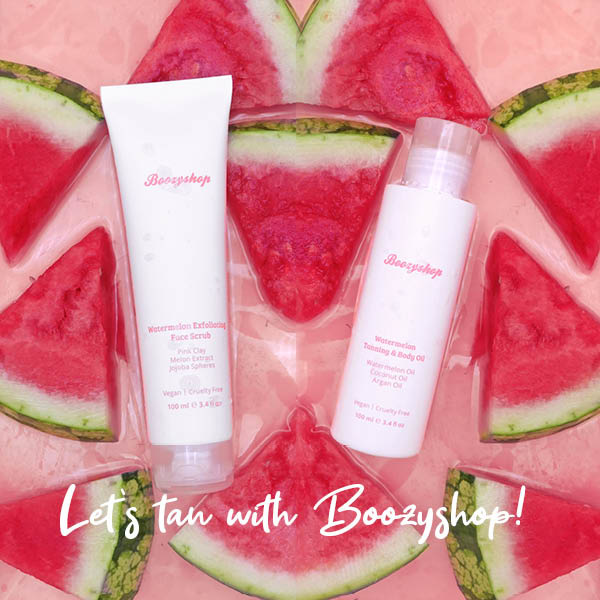 Boozyshop skin care with watermelon
Yay! Have you become a favorite of watermelon in skin care, but are you still looking for the right products? Good news: in the Boozyshop Skincare range we have fine products that are rich in watermelon. How about the Boozyshop Watermelon Exfoliating Face Scrub? This facial scrub removes dead skin cells and makes your skin glow again. The fine, lightweight gel substance of the Boozyshop Watermelon Exfoliating Face Scrub does not clog your pores and is easy to wash off your face.
The Boozyshop Watermelon Tanning & Body Oil is also rich in watermelon! This moisturizing oil takes care of your skin, making dry skin a thing of the past, and at the same time provides a deep, brown complexion. Getting a tan has never been so easy!