Boozyshop Skincare
Yes, yes, yes! You read that right: we at Boozyshop have launched our own skin care! We are of course very proud of that and that is why we are happy to tell you all the ins & outs!
High-quality products
When it comes to skin care, nothing is more important than using the right ingredients. And the right ingredients, which are in Boozyshop's skincare. This results in high quality products that contain only the essential ingredients. Our skincare line is free from silicones, parabens, sulfates, alcohol, gluten and perfume. That will make your skin happy!
Boozyshop Skincare is for everyone
Young, old, dry or oily skin. Pimples, fine lines, or do you suffer from more pigmentation? You've come to the right place at Boozyshop. We think it is important to make skin care accessible to everyone and that is why our skincare is suitable for all skin types. Thanks to the "clean" ingredient list, Boozyshop Skincare is even suitable for the most sensitive skin!
Our skin care line is not only kind to your skin, but also to your wallet. Boozyshop Skincare is an accessible way to get acquainted with skin care or to replace your expensive skincare with a more affordable variant, without losing quality.
Wide range
If you go for Boozyshop Skincare, you can choose from a wide range. You will find your entire skincare routine with us! That means not only fine products that connect seamlessly, but also a nice pink filled bathroom cabinet! Because let's be honest: you want those pink packaging, right? We are happy to give you tips for an optimal skincare routine, suitable for all skin types:
Step 1: cleaning
Cleaning your face is the foundation of a good skincare routine. You do this with the Boozyshop Salicylic Acid Cleanser. This lightly foaming cleanser removes dirt and remnants of make-up from your face and combats clogged pores, pimples and impurities. This cleanser is rich in salicylic acid, an ingredient that prevents clogged pores and gently exfoliates your skin and removes dead skin cells.
Another indispensable step in your skincare routine is regularly exfoliating your skin. By scrubbing with the Boozyshop Watermelon Exfoliating Face Scrub you remove dead skin cells thoroughly. The Aloe Vera in this scrub stimulates the cell renewal of your skin, which reduces impurities and prevents signs of skin aging.
Step 2: Hydrate
The next step in your routine is to moisturize your skin. The best way to do this is with hyaluronic acid, and leave that in our range. The Boozyshop Hyaluronic Acid Moisturizer gives your skin a real hydration boost and ensures that dry skin and/or dry spots disappear. This cream is rich in hyaluronic acid, a moisturizer that ensures that your skin is intensely hydrated. Hyaluronic acid "fills up" your skin, making it look firm and soft again and visibly reducing fine lines.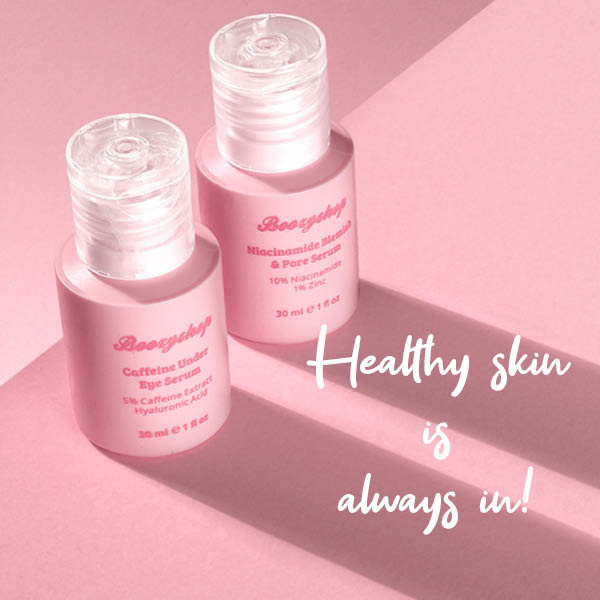 Step 3: grooming
A good addition to your skincare routine is taking care of your skin with a fine serum. In the Boozyshop Skincare range you will find no fewer than six different types of serum. There is definitely one suitable for you!
The Boozyshop Niacinamide Blemish & Pore Serum is a smoothing serum that helps to prevent outbreaks of impurities, such as acne. In addition, this serum cleans your pores, removing blackheads and excess sebum, and excessive oily skin and redness are a thing of the past.
Then we also have the Boozyshop Caffeine Under Eye Serum, a serum especially for the tender skin under your eyes, which ensures that dark circles, fine lines and wrinkles are reduced. The skin under your eyes will be less puffy, making you look more awake and radiant.
As you get older, you will also notice this in your skin. Dark spots, fine lines and wrinkles: it's all in the game. Fortunately, the Boozyshop Ferulic Acid Spot & Pigmentation Serum can help you with that! This serum forms a protective layer around your skin, which protects it against external influences. This prevents premature skin aging and your skin will look more even.
Do you already suffer from impure skin and would you like to get rid of it? Then the Boozyshop Salicylic Acid Clarifying Serum is for you! From the first use you will notice that impurities are reduced and pores shrink, making your skin look more even. The difference with our Niacinamide Serum? Niacinamide is mainly intended to prevent impurities, Salicylic Acid works effectively if you already have impurities.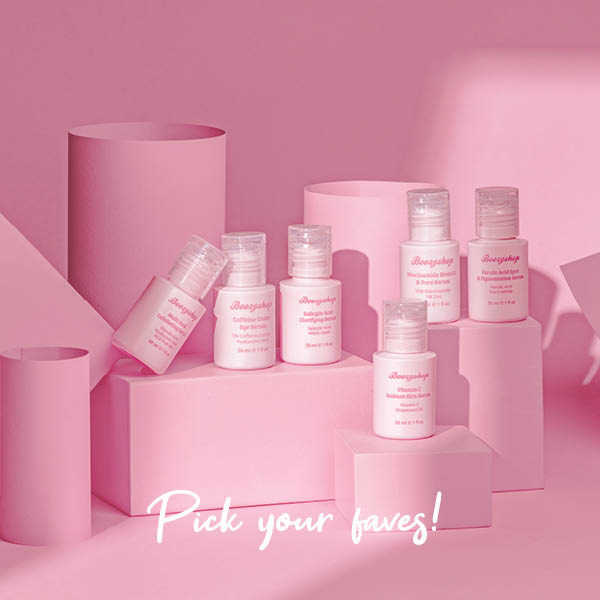 Step 4: pamper
Now that you have your daily skincare routine together, it is time to choose a nice mask so that you can pamper your skin on a weekly basis. With the Boozyshop Pink Clay Detox Mask you say goodbye to impurities such as blackheads, acne, redness and large pores. This mask also absorbs excess oils that cause oily skin. The pink clay and Kaolin in this mask ensure that your skin feels soft, supple and even.
Need advice?
Choosing the right skin care can be difficult, but our customer service experts are happy to help you! So: do you have a question, are you in doubt, or would you like advice? Do not hesitate and contact us in the live chat on the website or send an email or message via WhatsApp. Really do it!