BH Cosmetics Shimmering Bronze 12 Piece Brush Set
BH Cosmetics BH Cosmetics Shimmering Bronze 12 Piece Brush Set
The BH Cosmetics Shimmering Bronze 12 Piece Brush Set is a set with a beautiful cupholder and has a combination of face- and eyeshadow brushes.
For precise makeup application with a designer touch use the Studded Couture.
Super-soft synthetic face and eye brushes are the perfect match for you!
This brush set contains :
- Fan Brush
- Large Powder Brush
- Blush Brush
- Classic Foundation Brush
- Large Domed Blending Brush
- Fluffy Shader Brush
- Tapered Blending Brush
- Angled Flat Top Shader Brush
- Flat Shadow Brush
- Pencil Brush
- Angled Brush
- Spooley Brush
Features & Benefits :
- cruelty free synthetic brushes
- easy to clean
- professional quality
Maintenance :
Rinse and clean your brushes weekly at daily use for maximum hygiene and durability. The brushes are best cleaned as followed:
- Lukewarm water
- Shampoo or brushcleanser
- Use the Pro Brush Cleaner to rinse and clean your brushes deeply.
Dry your brushes upside down to prevent moisture from reaching the adhesive layers of the hair.
Retain the shape of your brushes with the Brush Pro Brush Protector for perfect results.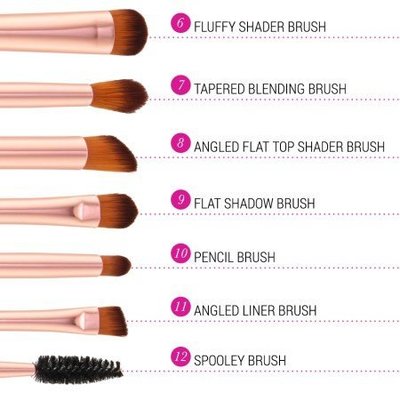 Boozyshop
5 /5
-
2431
beoordelingen op
Yotpo