De Sigma Switch is een siliconen matje dat je kunt gebruiken om je make-up kwasten snel en effectief schoon te maken, zonder dat je daar water of cleanser voor nodig hebt. Dit is ideaal als je makeup kwasten voor meerdere tinten wil gebruiken! 
Het siliconen matje heeft verschillende texturen, waardoor je zowel creamy als poeder make-up gemakkelijk van je kwasten kunt verwijderen. En zelfs wanneer je je kwasten grondig gaat reinigen, komt dit matje goed van pas. Je kunt je kwasten ook met water reinigen op dit matje, zodat ze weer volledig schoon zijn.
Dit matje:
gemaakt van siliconen
heeft verschillende texturen
voor het reinigen van je kwasten
geen water of cleanser nodig
ook te gebruiken tijdens het vochtig reinigen
dubbelzijdig
How to use:
Breng je make-up aan zoals gewenst.
Wrijf de gebruikte kwast of het siliconen matje totdat de makeup uit je kwast is getrokken.
Je kunt nu dezelfde makeup kwast opnieuw gebruiken voor een andere tint.
Inhoud: 1 stuk.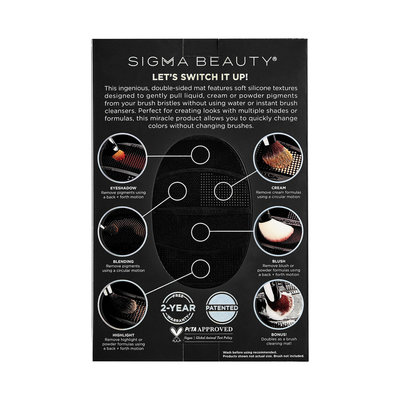 Boozyshop
5 /5
-
4865
beoordelingen op
Yotpo