Boozyshop Makeup Eraser Towel
Boozyshop Makeup Eraser Towel trekt makeup aan als een magneet. Verwijderen van je makeup is nog nooit zo makkelijk geweest! Zeg maar dag tegen al die chemicaliën, want deze towel in combinatie met water is al voldoende om zelfs de meest hardnekkig makeup te verwijderen. Maar dat niet alleen, deze towel heeft ook een exfoliërende zijde, waarmee je eenvoudige en snel de dode huidcellen verwijdert. Deze remover towel is duurzaam en kan gewoon in de wasmachine, ideaal!
Deze Eraser Towel: 
trekt make up aan als een magneet
verwijdert je makeup in een handomdraai
geen chemicaliën nodig
alleen water en dit doekje is al voldoende
heeft ook een exfoliërende werking
uitwasbaar
herbruikbaar
How to use:
Was de Makeup Eraser Towel voordat je deze gaat gebruiken, dit activeert de vezels.
Houdt het doekje onder warm en schoon stromend water totdat het goed doorweekt is.
Gebruik eerst de zijde met de langere vezels om je makeup te verwijderen. Gebruik hiervoor zachte draaiende bewegingen totdat alle makeup verwijderd is.
Draai het doekje nu om en exfolieer je huid zachtjes met de kortere vezels.
Spoel het doekje na gebruik grondig uit om een volgende keer weer te kunnen gebruiken.
Inhoud: 1 Doekje.
Afmetingen: 40 x 19 cm. 


Check ook onze volledige collectie Makeup Remover of benieuwd naar de hele collectie Boozyshop? Bij Boozyshop vind je alles om jouw makeup stash compleet te maken, bekijk snel alle make up.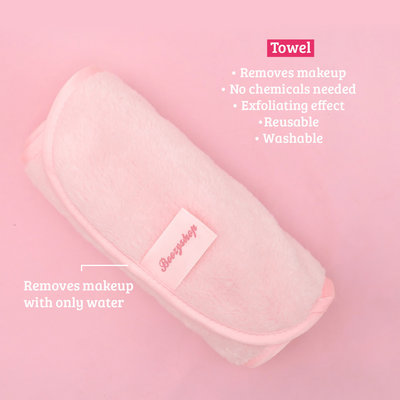 Serviettes très pratique elle retire bien le maquillage