Flutter Lashes Ersatz Lashes Crazed
Flutter Lashes Ersatz Lashes Crazed are high quality fake lashes. These eyelashes are made by hand using synthetic fibers. This makes the lashes super light and give a dimensional and natural effect. The lashes contain multiple layers and are giving extreme length. With these eyelashes you create a sexy look with sultry effect. With proper care you can use these eyelashes no less than 10 times.
These lashes have a big density and are suitable for all eye shapes.
These eyelashes :
High Quality.
Handmade.
Contains synthetic fibers.
Lightweight.
Dimensional and natural effect.
Contains several layers and gives extreme length.
Gives a sexy look with sultry effect.
Suitable for all eye shapes.
Up to 10x usable.
How to use :
Curl your own lashes with an eyelash curler.
Place the strip of the artificial eyelash in line with the natural lash line.
Cut if the eyelash strip is too long.
Bring a thin layer of eyelash glue on the entire band.
Wait 3 to 5 seconds.
Secure by pressing the eyelash strip with the fingertips or a pair of tweezers against the lash line.
Removal :
Use a cotton swab with makeup remover and apply to the lashes. Carefully remove the lashes from your eyelids. Make sure that the hairs of the lashes stay dry. Remove any remaining glue and place the lashes back in their original box to return them to their original shape.
Contains : 1 pair of fake eyelashes.
Exclusive eyelash glue.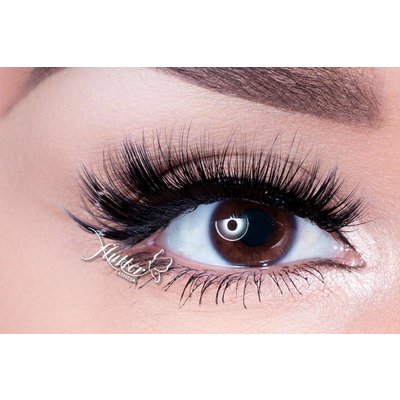 We would love to help you!