Ecotools Warm Winter Glow Beauty Kit
The Ecotools Warm Winter Glow Beauty Kit is a set of makeup tools that you definitely need during your cold winter months. With this limited edition you can easily and quickly create a beautiful natural glowy look. In this set are no less than 6 make up brushes, a make up sponge and a mirror, in short everything you need for a stunning look! In addition, you get a storage tray with this set, perfect for neatly and conveniently storing your make up tools.

This set contains the following items:
Classic Foundation Brush: Ideal for applying your foundation.
Tri-fecting Wedge Sponge: Perfect for applying light and buildable make up.
Airbrush Brush: With this brush you can easily apply your blush and/or highlighter.
Detail Brush: Apply your eyeshadow in detail with this brush.
Smudge Brush: Smudge your eyeshadow and eyeliner along your lash line.
Angled Line Brush: Line your eyes with this brush and emphasize the shape of your eyes or use this brush to shape and define your eyebrows.
Round Powder Brush: Apply your eyeshadow onto your eyelid with this soft tapered brush.
Mirror
Storage tray


Cruelty Free : All Ecotools products are PETA certified, this means that all products are 100% Cruetly free and VEGAN .
Recycled Materials : Ecotools believed in a new destination giving materials that are used, that's why all their products are made from recycled aluminum and plastic.
Tree Free : All Ecotools packaging is made from 100% tree-free paper. How? With 20% cotton and 80% bamboo fibers!
Recycled Bamboo : All handles of the brushes are made from recycled bamboo, 1 of the fastest growing plants on the planet!

Hair :
Luxury synthetic fibers, which are durable, give a perfect result and easy to clean.

Maintenance :
To ensure optimal longevity and hygiene of your brushes, the brushes must be cleaned weekly.
Use for this:
- Lukewarm water
- Ecotools Brush Shampoo

Dry your brushes upside down so that no moisture can reach the adhesive layers of the hair.

Retain the shape of your brushes with the Pro Brush Protector for a perfect result.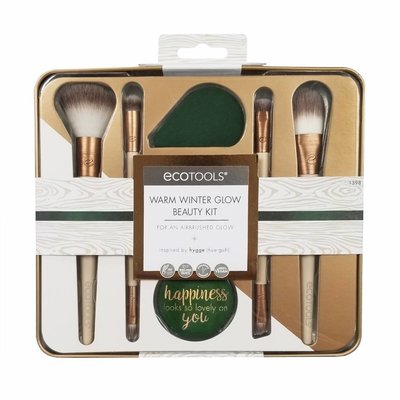 We would love to help you!