Ecotools Ultimate Shade Duo
The Ecotools Ultimate Shade Duo is designed with 2 brushes to shade and blend color for beautiful definition.

SHADE: Apply all over base color to lid with the Full Shadow brush. Also use to highlight brow bone.
BLEND: Use the compact bristles of the Precision Blending brush to perfectly apply and blend accent colors.




Cruelty Free : All Ecotools producten are PETA certified, meaning we are 100% cruelty free and VEGAN. 
Recycled Materials : Ecotools believea in giving a new purpose to old things. That's why our products are made from recycled aluminum and plastic.
Tree Free : Ecotools packaging is made of 100% Tree-Free paper. HOW? With 20% cotton and 80% bamboo fibers!
Recycled Bamboo : Ecotools handles are made of renewable bamboo, one of the fastest growing plants on the planet!

Hair :
Luxury synthetic fibers, which are durable, give a flawaless result and are easy to clean.

Maintenance : 
Rinse and clean your brushes weekly at daily use for maximum hygiene and durability. The brushes are best cleaned as following:
- Lukewarm water
- Ecotools Brush Shampoo.
Dry your brushes upside down to prevent moisture from reaching the adhesive layers of the hair.
Retain the shape of your brushes with the Brush Pro Brush Protector for perfect results.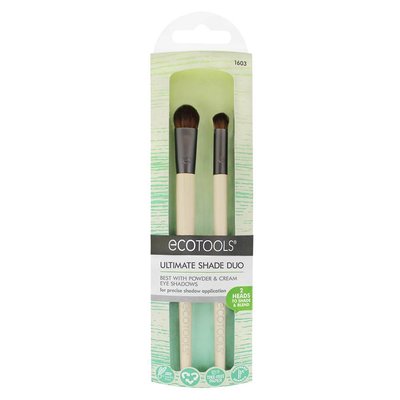 We would love to help you!