Dragun Beauty Face Pressed Powder Palette
Dragun Beauty Face Pressed Powder Palette is a palette with Nikita herself on the front! In addition, this palette contains everything you need for a defined and glowy look. This palette contains six different shades, 2 of which are buildable contour shades, 2 vibrant blushes and 2 beautiful highlighters. Because of the size and the mirror, this palette is ideal to take with you.
The long lasting formula feels silky soft on your skin and is easy to build up, creating the perfect amount of dimension. In addition, the shades can be used on their own or mixed with each other, so that they perfectly match your needs.
This palette is vegan, paraben-free and suitable for all skin tones.
This Palette :
Contour, blush and highlight.
Long lasting formula.
Easy to assemble.
Feels soft on the skin.
Paraben and sulphates free.
Free from Phthalates.
For all skin tones.
Cruelty free.
Vegan.
How to use :
Contour
Diagonally below the cheekbones and cheek cavities.
Sides of the nose straight down from the bridge.
Below the hairline.
Directly on the jaw line and under the chin.
Highlighter
Use a highlighter brush to apply the highlighter in the inner corners of the eyes, on the eyebrow bone, cupid bow and along the tips of your cheekbones.
Blend in with a blending brush.
Use an eye shadow brush for precision and if you want to achieve a higher intensity with the highlighter.
Blush
Make sure your foundation is applied and powdered with setting powder.
Use a blush brush or contour brush.
Apply just below your cheekbone in an upward motion toward your hairline.
Contains : 22.2 gr.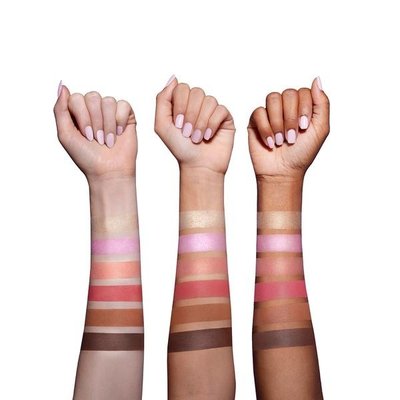 We would love to help you!