Makeup Revolution x Friends He's Her Lobster Shadow Palette
Die Makeup Revolution x Friends He's Her Lobster Shadow Palette ist ein echtes Sammlerstück! Diese Lidschatten-Palette enthält nicht weniger als 21 unglaublich gut pigmentierte Farben in tiefem Braun, flammendem Orange, sommerlichen Korallen und neutralen Farben mit schimmernden Oberflächen. Mit dieser Palette können Sie in alle Richtungen gehen und ein ultimatives " I can't believe you did that"! Aussehen! Die ultra-mischbaren Lidschatten haben eine weiche Textur und sind daher leicht aufzutragen.
Die echten Freunde der Freunde haben es wahrscheinlich sofort gesehen: Diese Palette ist inspiriert von der ikonischen Aussage " Sehen Sie, er ist ihr Hummer! " Wie originell !? Was die Palette noch lustiger macht, sind die serienbezogenen Farbnamen wie "Beef Triffle", "Stevie the TV" und "Could I Be ..." Throwback-Zeit!
Dieses Sammlerstück ist ein absoluter Gewinner und sollte auf keinen Fall in Ihrem Vorrat fehlen! Machen Sie den schönsten Blick, um den Gellar Cup zu gewinnen ?
Diese Palette:
enthält 21 Farben für einen 90er Look
schimmernde Oberflächen
hochpigmentiert
ultra-mischbare, weiche Textur
mit handlichem Spiegel
in einem zu schönen Paket
frei von Grausamkeiten
Wie benutzt man:
Tragen Sie eine Lidschatten-Grundierung auf, um Ihren Look noch länger zu genießen.
Tragen Sie Ihre Lieblingsfarben mit einem Lidschattenpinsel auf.
Verwenden Sie für einen weichen Look einen Mischpinsel, um die Farben gut zu mischen.
Inhalt: 21 x 1,2 gr.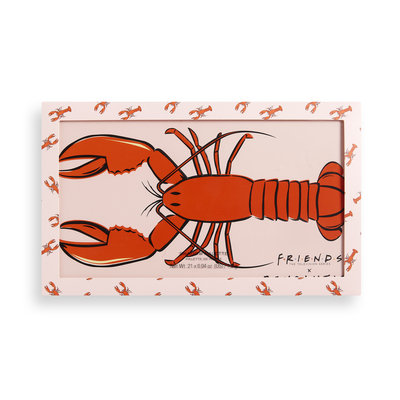 Wir helfen Ihnen gerne weiter!