I Heart Revolution Rainbow Tones Long Term Hair Colour Purple Passion
I Heart Revolution Rainbow Tones Long Term Hair Colour Purple Passion ist eine semi-permanente Haarfarbe und ideal für zu Hause. Die cremige Gel-Formel lässt sich leicht auftragen und erzeugt eine schöne Haarfarbe! Aber es gibt noch mehr! Dieses Haarfärbemittel färbt nicht nur Ihr Haar, es ist auch eine Conditioner in einem. Was für ein Luxus und all das in einem Topf!
Die wichtigsten Inhaltsstoffe in diesem Haarfärbemittel sind Kürbiskernöl und Quinoaöl und geben Ihrem Haar zusätzliche Pflege beim Färben. Du willst das auch?! Mit diesem semi-permanenten Haarfärbemittel genießen Sie 8 bis 12 Waschgänge für eine schöne, lebhafte Farbe!
Kann auf Naturhaar aufgetragen werden, das beste Ergebnis wird jedoch erzielt, wenn das Haar zum ersten Mal gebleicht wird.
Diese Haarfarbe:
Haarfarbe und Conditioner in einem.
Semi-permanent
Cremige Gelformel.
Einfach anzuwenden
Bleibt 8-12 Waschungen.
Frei von Tierversuche
Vegane.
Verschiedene Farben :
Sweet Peach : Pfirsichrosa.
Silver Angel : Silber.
Silver Galaxy : Dunkles Silber.
Purple Passion : Lila.
Pink Cloud : Pink.
Green Mermaid Waves : Grün.
Beach Babe Blue : Blau.
Wie zu verwenden:
Auf das nasse Haar auftragen
Diese Haarfarbe kann am besten auf gewaschenes, feuchtes Haar aufgetragen werden.
Nachdem Sie Ihr Haar gewaschen haben, können Sie die gewünschte Menge Haarfärbemittel von der Wurzel bis zur Spitze auftragen.
10 bis 15 Minuten einwirken lassen.
Dann gut ausspülen, bis das Wasser wieder klar ist.
Bevorzugen Sie immer noch eine intensivere Farbe mit langanhaltendem Ergebnis, dann können Sie diese Haarfarbe auf trockenes Haar auftragen!
Auf trockenes Haar auftragen
Bevor Sie das Haarfärbemittel auf trockenes Haar auftragen, sollten Sie zuerst ein Handtuch über die Schultern legen, um Ihre Kleidung zu schützen.
Legen Sie die Haarfarbe zuerst in eine Schüssel, um die Farbe von dort aus zu erleichtern.
Teilen Sie Ihr Haar in mehrere Locken auf und tragen Sie Handschuhe, bevor Sie die Haarfarbe auftragen.
Teilen Sie die Haarfarbe über Ihre Locken, beginnen Sie am Hinterkopf und befestigen Sie die Locken mit einer Haarspange.
Optional können Sie die Haarfarbe auch mit einem Kamm über Ihr Haar verteilen.
Lassen Sie das Haar etwa 15-30 Minuten einwirken und spülen Sie es gut unter der Dusche aus.
Tipp! : Suchen Sie nach waschbarem Haarfärbemittel, dann schauen Sie sich die Rainbow Paste. Wenn Sie eine Farbe bevorzugen, die 1 bis 3 Mal gewaschen werden soll, sehen Sie sich die Rainbow Shots an! Wenn die Farbe nicht Ihren Vorstellungen entspricht, können Sie sie mit dem Revolution Hair Color Remover einfach und schnell entfernen!
Zutaten:
Aqua (Wasser), Cetearylalkohol, Hydroxyprpyl-Starck-Phosphat, Cementylmethosulfat, Cetylalkohol, Phenoxyethanol, Parfüm (Duft), Butylenglycol, Propylenglycol, Arania-Spinase-Kernöl, Panthenol, hydrolysiertes Weizenprotein, Ethylhexylglycerin, Benzylalkohol, Quaterniumcarbonat , Cucurbita Pepo (Kürbis) -Samenöl, Linalool, Hexylcinnamal, Kaliumhydroxid, Basic Yellow 57, 3-Nitro-P-hydroxyethylaminophenol, Basci Red 51, Basic Red 76.
Inhalt: 120 ml
Entdecken Sie auch unsere gesamte Kollektion Haarfärbemittel oder interessieren Sie sich für die gesamte Kollektion I Heart Revolution Haartönung / I Heart Revolution? Bei Boozyshop finden Sie alles, um Ihr Make-up zu vervollständigen.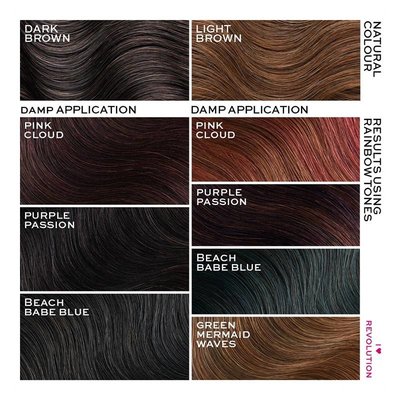 it arrived very fast, and I love the packaging!
Wir helfen Ihnen gerne weiter!