Ecotools Festive and Flawless Beauty Kit
Das Ecotools Festive and Flawless Beauty Kit ist perfekt für Ihren makellosen Look! Mit diesem Kit sorgen Sie für subtil getönte Wangen, perfekte Lippen und einen glänzenden Glanz! Das Kit besteht aus 4 Bürsten, 1 Mischschwamm und 1 glänzenden recycelten Bürstenhalter.
Dieses Set besteht aus folgenden Elementen :
Blending sponge.
Precision Blush Brush.
Precise Highlight Brush.
Base Eye Brush & Angled Eye Brush.
Full Lip Brush.
Recycled Aluminium Brush Holder. 
Frei von Grausamkeiten : Alle Ecotools-Produkte sind PETA-zertifiziert, was bedeutet, dass alle Produkte 100% grausam und VEGAN sind.
Recycelte Materialien : Ecotools glaubt an die Wiederverwendung der verwendeten Materialien, weshalb alle Produkte aus recyceltem Aluminium und Kunststoff hergestellt werden.
Tree Free: Alle Ecotools Verpackung ist aus 100% baumfreien Papier. Wie? Mit 20% Baumwolle und 80% Bambusfasern!
Recycelter Bambus : Alle Griffe der Quasten bestehen aus recyceltem Bambus, einer der am schnellsten wachsenden Pflanzen der Welt!
Tip! : Dieses Kit enthält ein selbstverpackendes Papier. In der Verpackung erfahren Sie genau, wie dies funktioniert. Ideal zum Verschenken!
Instandhaltung :
Um eine optimale Lebensdauer und Hygiene Ihrer Bürsten zu gewährleisten, sollten die Bürsten wöchentlich gereinigt werden.
Verwenden Sie dazu:
- Lauwarmes Wasser
- Ecotools Brush Shampoo
Trocknen Sie Ihre Bürsten verkehrt herum, damit keine Feuchtigkeit in die Klebeschichten des Haares gelangen kann.

Behalten Sie die Form Ihrer Pinsel mit dem Pro Brush Protector für ein perfektes Ergebnis.
Inhalt : 4 Bürsten inklusive Brush holder.
Schauen Sie sich auch unsere vollständige Sammlung von Lidschattenpinseln / Mischpinseln / Eyelinerpinseln an oder sind Sie neugierig auf die gesamte Kollektion von EcoTools?
Bei Boozyshop finden Sie alles, um Ihren Make-up-Vorrat zu vervollständigen und alle Make-up-Pinsel schnell anzuzeigen.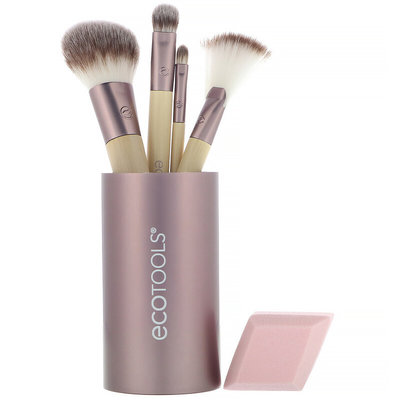 Wir helfen Ihnen gerne weiter!
Boozyshop
5 /5
-
4865
beoordelingen op
Yotpo