Real Techniques Brush Goals Set
This Brush Goals brush set from Real Techniques is an absolute musthave! The handles have a beautiful glitter design and are a real party on your make up table!
All brushes you need for applying your make up in one handy set! Another nice fact, these brushes are glowing in the dark!
Do not wait too long to buy this festive glitter and glow set and let the party begin!
This set contains the following brushes :
Correcting Brush: This brush is perfect for contouring.
Blending Crease Brush: Ideal for applying eyeshadow on your crease.
Deluxe Concealer Brush: Perfect for applying concealer and getting rid of imperfections.
Full Coverage Eye Brush: This brush is ideal for an easy application of eyeshadow over the entire eyelid.
Fan Brush: This brush is perfect to apply your highlighter.
Hair :
Luxury synthetic Ultraplush fibers, which are durable, give a perfect result and easy to clean.

Handle :
Plastic.

Maintenance :
To ensure optimal longevity and hygiene of your brushes, the brushes must be cleaned weekly.
Use for this:
- Lukewarm water.
- Real Techniques Deep Brush Cleansing Gel
- Real Techniques Brush Cleansing Palette to clean your brush deep into the fibers.

Dry your brushes upside down so that no moisture can reach the adhesive layers of the hair.

Retain the shape of your brushes with the Pro Brush Protector for a perfect result.



The Real Techniques Brush Goals Set is easily ordered online at Boozyshop.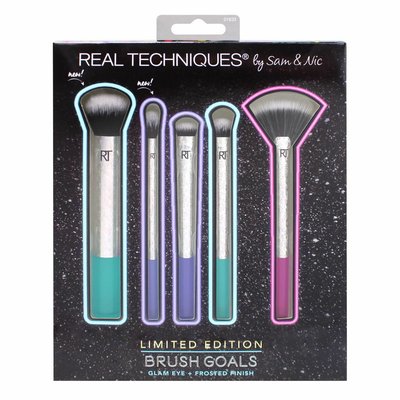 We would love to help you!