Boozyshop 7 pc. Liquid Glitter Brush Set Rose Gold
This Glitter Brush Set Rose Gold is an absolute musthave! These beautiful brushes have a transparent handle full of golden glitter, you will love it! This brush set consists of 7 different brushes for your face, eyes and eyebrows with hairs as soft as silk for a perfect make up application.

This glitter set includes a glitter clutch to easily take your brushes with you.

The set consists of the following brushes :
Powder brush.
Blush brush.
Blender.
Small shader.
Angled brow/eyeliner.
Fan brush.
Pencil brush.
These brushes are :
Synthetic.
High quality.
Easy to clean.
Cruelty free.
Hair :
Luxury synthetic fibers, specially developed for the function of the brush.

Handle :
Transparent plastic handle bursting with glitter.

Ferrule :
Aluminum finished in a rose gold color.
Maintenance :
To ensure optimal longevity and hygiene of your brushes, the brushes must be cleaned weekly.
Use for this:
- Lukewarm water
- Shampoo or brushcleanser
- Pro Brush Cleaner to also clean your brush deep into the fibers.

Dry your brushes upside down so no moisture can reach the adhesive layers of the hair.

Retain the shape of your brushes with the Pro Brush Protector for a perfect result.


Also check out our complete collection of make-up brush sets. Curious for the entire collection of Boozyshop? At Boozyshop you will find everything to complete your makeup stash, see all make-up brushes quickly.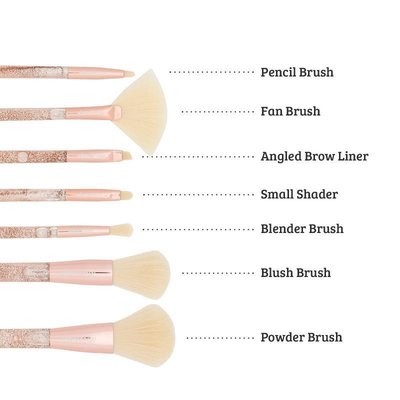 We would love to help you!