BH Cosmetics BH Chic 14 Piece Brush Set with Cosmetic Case
The BH Cosmetics BH Chic 14 Piece Brush Set with Cosmetic Case is a collection of professional brushes for your face, eyes and lips.
You can Blush, blend, line and define with ease using the Chic Brush Set, the brushes can be used for liquids, creams and powders for a flawless finish.
This brush set contains :
1. Angled Powder Brush
2. Medium Powder Brush
3. Small Powder Brush
4. Angled Crease Brush
5. Medium Flat Eyeshadow Brush
6. Medium Oval Eyeshadow Brush
7. Eyeshadow Blending Brush
8. Concealer Brush
9. Small Concealer Brush
10. Flat Eyeliner Brush
11. Angled Eyeliner Brush
12. Oval Lip Brush
13. Standard Lip Brush
14. Precision Eyeliner Brush
Features & Benefits :
- cruelty free synthetic brushes
- easy to clean
- professional quality
Maintenance :
Rinse and clean your brushes weekly at daily use for maximum hygiene and durability. The brushes are best cleaned as followed:
- Lukewarm water
- Shampoo or brushcleanser
- Use the Pro Brush Cleaner to rinse and clean your brushes deeply.
Dry your brushes upside down to prevent moisture from reaching the adhesive layers of the hair.
Retain the shape of your brushes with the Brush Pro Brush Protector for perfect results.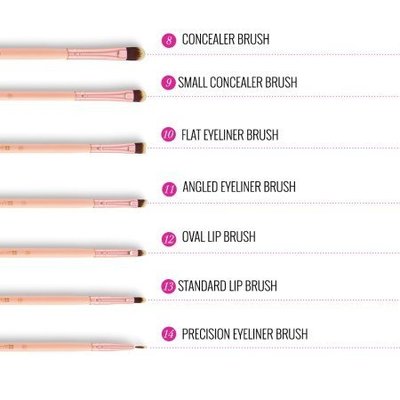 Boozyshop
5 /5
-
2538
beoordelingen op
Yotpo