BH Cosmetics Dual Fiber 9 Piece Brush Set with Black Brush Roll
BH Cosmetics BH Cosmetics Dual Fiber 9 Piece Brush Set with Black Brush Roll
The BH Cosmetics Dual Fiber 9 Piece Brush Set with Black Brush Roll helps you achieve the ultimate airbrushed finish effortlessly. The convenient collection of synthetic face and eye brushes can be used with liquids, creams and powders, making possible to buff, blend and bronze like a pro. The brushes come in a black, quilted, roll-up case with a zipper compartment for additional beauty essentials.
Brushes Included:
1. Rounded Powder Brush
2. Oval Powder Brush
3. Small Powder Brush
4. Flat Foundation Brush
5. Large Blending Brush
6. Eye Blending Brush
7. Small Eye Blending Brush
8. Flat Eyeliner Brush
9. Fan Brush
Features & Benefits : - 4 Larger Brushes for Larger Areas of the Face - 5 Smaller Brushes for Smaller Areas of the Face & Eyes - Quilted brush roll included - Cruelty-Free - High Quality
Maintenance :
Rinse and clean your brushes weekly at daily use for maximum hygiene and durability. The brushes are best cleaned as followed:
- Lukewarm water
- Shampoo or brushcleanser
- Use the Pro Brush Cleaner to rinse and clean your brushes deeply.
Dry your brushes upside down to prevent moisture from reaching the adhesive layers of the hair.
Retain the shape of your brushes with the Brush Pro Brush Protector for perfect results.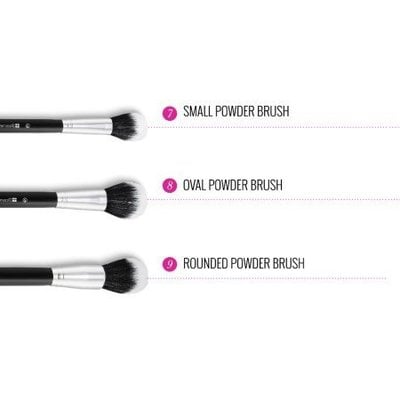 Boozyshop
5 /5
-
2431
beoordelingen op
Yotpo